Compact and reliable solutions are crucial in automated cells. A company for automated precision measurement had the requirement to demagnetize small automotive 100Cr6 parts before eddy current testing and cleaning process.
Cestriom GmbH met this requirement by developing a pulse demagnetizer with a compact coil SSM01.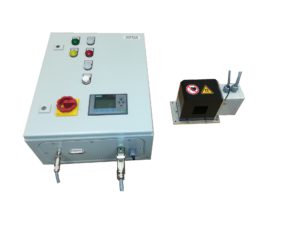 Features:
Standard power module LM14
Process monitoring with multipoint testing
Coil SSM01 with active area: 50x50x80mm
External dimensions of coil housing (black): 150x150x100mm
Field strength up to ~200kA/m
High-precision progressive frequency sine pulse
Pulse duration below 1'000ms feasible
Cycle time of several pulses / 10s achievable
Precise demagnetization for lowest residual magnetism
Suitable for automated systems such as rotary tables, linear systems, robot handling, etc.